Since 1996, Land Rover retailer employees have gotten to enjoy an unusual employee perk, the chance to test their vehicle knowledge in a grueling off-road challenge using the latest Land Rover SUV, dubbed the Land Rover TRĕK Off-Road Competition. In 2021, that vehicle was none other than the new 2022 Land Rover Defender 110 S P300, complete with bespoke TRĕK badging and Land Rover off-road packs and name-brand accessories. 70 teams of three from Land Rover Dealerships across North America met in Asheville, North Carolina to camp, compete and learn firsthand just what the Land Rover Defender is capable of. Cole European sent three of our best, Dustin, Michael and Doug, to represent Walnut Creek, California and the Bay Area.
Biltmore Estate, Asheville, NC
The famed Biltmore Estate in Asheville boasts 8,000 acres of lush forests, trails, rivers and off-road terrain. The competition plan itself remains a secret to the competitors until they are in the thick of it. Each team uses a map, compass, GPS and teamwork to navigate around the estate and complete a series of off-road challenges and team tasks. This event is not for the faint of heart. To make it even more fun, there was pouring rain and lightning storms throughout the event.
The teams began with a night of camping and woke up bright and early at 5 am to navigate on foot to find their designated 2022 Land Rover Defender 110 S P300 TRĕK Edition. Team Cole European was the first to arrive at their Defender and set off in the rain and mud to the first challenge. Celebrity teams were also competing, including Olympic skier Lindsey Vonn, ESPN journalist Alyssa Roenigk and high-altitude ski mountaineer Hilaree Nelson along with internet stars Jeff Glucker of Hooniverse, Tommy Mica of The Fast Lane and Bryon Dorr of Gear Junkie.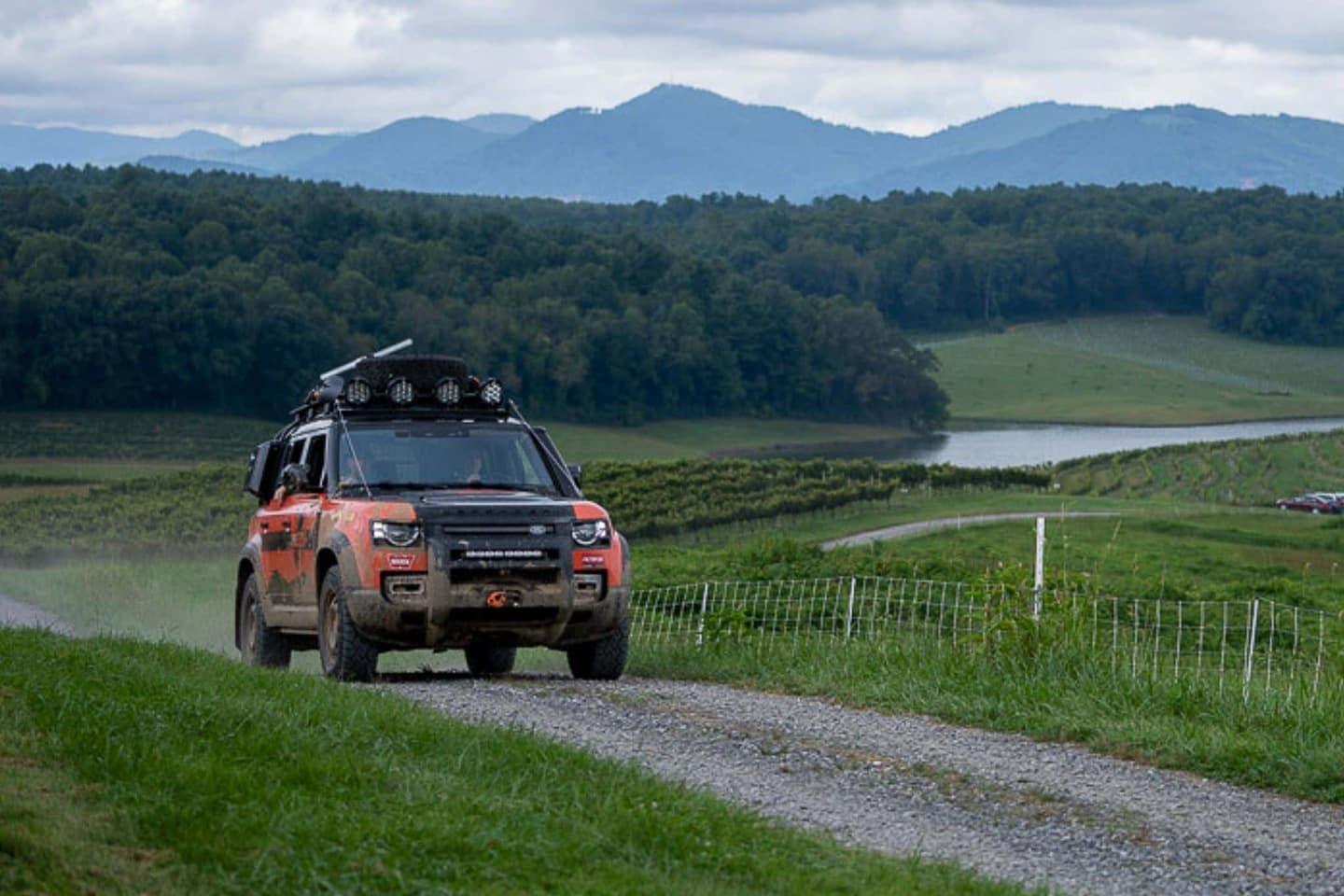 2022 Land Rover Defender TRĕK Edition
The 2022 Land Rover Defender 110 P300 TRĕK Edition ran on the new 2.0L inline-four engine with 296 horsepower and included impressive upgrades by name-brand companies like Lucky8 Off Road, Factor55, GoodYear and Warn Industries.
The custom Defenders featured 18-inch steel wheels, a Hi-Lift Jack, Warn Zeon 10-S winch kit, TRED Pro Recovery boards, off-road driving lights, limb-risers, traction board, and essentials like a shovel and Garmin GPS. The special edition 2022 Defender was equipped with the Land Rover Off-Road Pack with a Domestic Plug Socket, Off-Road Tires, Electronic Active Differential, and the Land Rover Towing Pack with All Terrain Progress Control, Terrain Response 2, Advanced Tow Assist, Tow Hitch Receiver and Configurable Terrain Response.
A bespoke TRĕK emblem, numbered badging, special logos inside and out and a striking orange and black vehicle wrap rounded out the customized Defender's look. Cole European currently has our competition Defender on display and is available for one lucky Land Rover enthusiast to own!
Land Rover TRĕK Challenges
The teams were offered up 14 challenges, choosing only the ones they thought they could complete for the most points, as there was not enough time to do all of them. The off-road challenges included the 2 Car Lengths challenge, winching the 5,000+ lb Land Rover Defender two car lengths uphill using only the Hi-Lift Jack and chains – in under an hour.
Team Cole European also chose to Build a Bridge over a creek. But, this bridge was also a puzzle that had to be priced together to make the Land Rover logo, and had to support the 2.5 ton Land Rover Defender. Mind you, it was also pouring rain.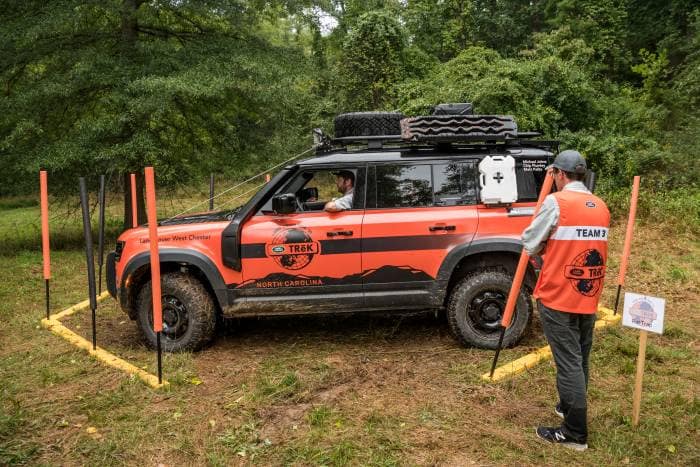 Some teams tried the Rat Pack, a deceivingly simple task of rotating the Land Rover Defender 360-degrees. However, the Defender was placed in an octagon not much bigger than it was, and drivers needed to turn all the way around without hitting vertical poles at every point. It was a move straight out of the Austin Powers movie.
Other challenges involved two teams working together. Team Cole European worked with the team from Marin on two challenges, completing them quickly and efficiently. Usually, there are kayaking, mountain biking and straight-up running challenges, but due to – you guessed it – supply chain issues, not enough gear could be rounded up. But there were plenty of other ways to exhaust your body completely!
Land Rover Product Knowledge Experts
Ultimately, the Land Rover TRĕK Competition is about educating Land Rover retailer staff about the capabilities of the Land Rover Defender. This firsthand product knowledge is invaluable in helping Land Rover staff educate their customers, assist with service issues and ensure every Land Rover owner gets the most out of their SUV. Dustin (Finance Manager), Michael (Service Advisor) and Doug (Service Technician), each working in a different department, can now impart their knowledge to the rest of the Cole European team and build excitement for Land Rover products.
While Cole European didn't win, Dustin said, "it was an amazing event, and we all had a blast participating." Congrats to Dustin, Doug and Michael for completing the extensive course! Be sure to speak with them to learn more about the true off-road capability of the new 2022 Land Rover Defender.
Cole European in Walnut Creek, California, has our very own 2022 Land Rover Defender TRĕK Edition on display – and it's for sale! There are only 70 in existence, so don't hesitate. Shop for a new Land Rover Defender online or stop by Cole European in Walnut Creek, CA, to take a test drive today!